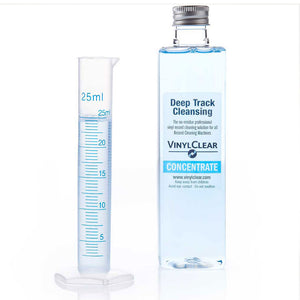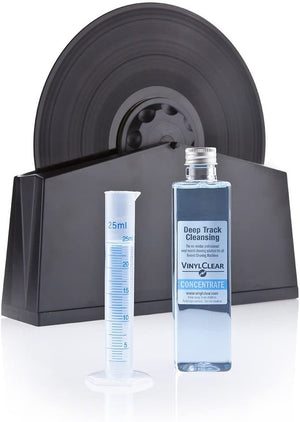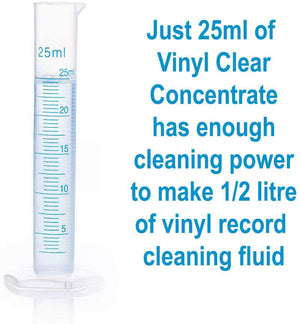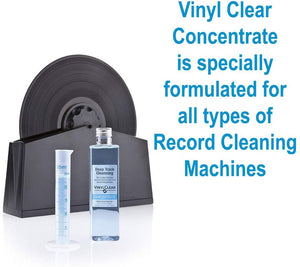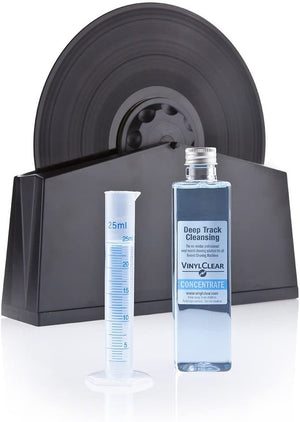 Record Machine Cleaning Fluid Concentrate. Make your LP Records Sound Like New With The Industry Standard Vinyl Record Cleaner
Created specifically for use with Record Cleaning Machines. Acknowledged as being one of THE VERY BEST VINYL RECORD CLEANING FLUIDS AVAILABLE, Vinyl Clear is the only professional record cleaning solution with widespread industry recognition and credible 3rd party approval. Just add de-ionised water for perfect results.


This audiophile quality record cleaning concentrate is ideal FOR USE WITH ANY VACUUM, SPIN OR ULTRASONIC STYLE RECORD CLEANING MACHINE. It is also highly effective when used for manual cleaning. Vinylclear concentrate has a low surface tension which allows the fluid to penetrate right to the bottom of the groove. We call this effect DEEP TRACK CLEANSING to distance it from other cheaper cleaners that just sit on top of the record surface.


Vinylclear will REMOVE ALL TRACES OF DUST, DIRT, AIR POLLUTION, OIL, FATTY DEPOSITS, EVEN FUNGI AND MOULD resulting in improved clarity and instrumental definition. You will hear a noticeable improvement in overall soundstage clarity of vinyl LP records. It can be used multiple times and will remove any residue left by old cleaning fluid.


The 250ml Record Machine Cleaning Fluid Concentrate is GREAT VALUE - MAKES UP TO 5LTRS OF VINYL RECORD CLEANING FLUID. Comes with a 25ml laboratory test-tube style measure for precise mixing. For medium soiled records or records that have not been spin cleaned before use 1 part concentrate to 10 parts de-ionised water, for lighter or more regular cleaning use a 1 to 20 mix.


Quality you can trust, Vinyl Clear make record cleaning kits for Abbey Road Studios, are ENDORSED BY THE DAILY MAIL, THE DAILY MIRROR, THE GUARDIAN AND THE TELEGRAPH, partnered by Lenco Turntables and sold on QVC. Discover for yourself why they believe Vinylclear is the best vinyl record cleaner available. Backed by our FULL 100% NO QUIBBLE MONEY BACK GUARANTEE
Product Information:
Safety Data Sheet