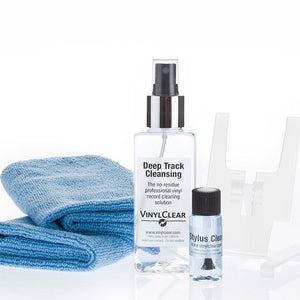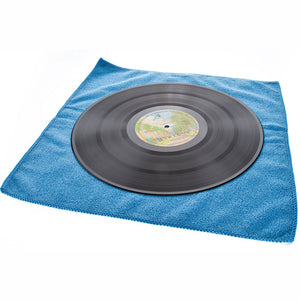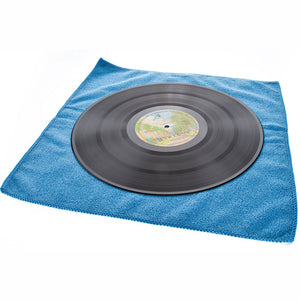 Vinyl Record Restoration & Cleaning Fluid Kit (150ml). Make Your Vinyl LP's Pop and Click Free Again
Make annoying pops and clicks a thing of the past. Vinyl Clear is the industry standard professional ADVANCED VINYL RECORD CLEANER fluid proven to gently restore even the dirtiest vinyl records to their original crystal clear sound.

This Vinyl Clear Professional Vinyl Record Cleaning Fluid contains ultra pure ingredients that penetrate deep into the record groove and gently soften and remove contaminates, dust, dirt, grease deposits and dissolves fingerprints from your records. A full size 150ml bottle with cosmetic quality micro-atomiser spray.


Two full-size (approx 300x380mm) super soft microfibre cleaning cloths. One, foldaway LP drying stand. Easy to follow, full colour instruction.
Plus a 15ml bottle of Stylus Clear with integral brush.
Quality you can trust, Vinyl Clear make record cleaning kits for Abbey Road Studios, are ENDORSED BY THE DAILY MAIL, THE DAILY MIRROR, THE GUARDIAN AND THE TELEGRAPH, partnered by Lenco Turntables and sold on QVC. Discover for yourself why they believe Vinylclear is the best vinyl record cleaner available. Backed by our FULL 100% NO QUIBBLE MONEY BACK GUARANTEE