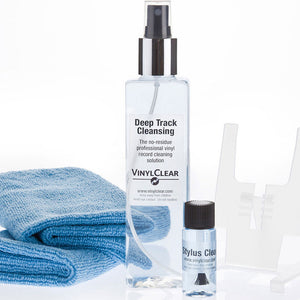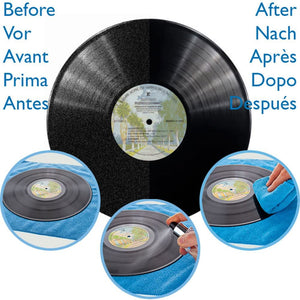 Professional LP Record Cleaner Solution : Antistatic Vinyl Record Restoration & Cleaning Kit (250ml). Enjoy Click Free, Crystal Clear Sound.
Make annoying pops and clicks a thing of the past. Vinyl Clear is the industry standard professional ADVANCED VINYL RECORD CLEANER fluid proven to gently restore even the dirtiest vinyl records to their original crystal clear sound
We won't say it's THE BEST VINYL RECORD CLEANING FLUID AVAILABLE but Vinyl Clear is the only professional record cleaning solution with widespread industry recognition and credible 3rd party approval. The large size 250ml bottle of vinyl record cleaning fluid will clean 350 LP's on both sides.
You could risk a cheaper, untested alternative but dosen't every recording in your collection deserve the INDUSTRY STANDARD VINYL RECORD CLEANER, to help maintain faithful reproduction and crystal clear clarity?
It's easy to, MAKE YOUR LP RECORDS SOUND GREAT AGAIN. Included in the kit are: A full size 250ml Bottle Deep Track Cleansing Vinyl Record Cleaning Fluid with Micro-Atomiser Spray. A fold-way 12' record stand to fully dry your records. Two Super Soft, Full-Sized Microfibre Cleaning Cloths to clean and protect your vinyl . PLUS: A 15ml Bottle Of Stylus Clear (worth £8.95) which includes a stylus brush.
Quality you can trust, the only vinyl record cleaner chosen by Abbey Road Studios, ENDORSED BY THE DAILY MAIL, THE DAILY MIRROR, THE GUARDIAN AND THE TELEGRAPH, partnered by Lenco Turntables and sold on QVC. Discover for yourself why they believe Vinylclear is the best vinyl record cleaner available. Backed by our FULL 100% NO QUIBBLE MONEY BACK GUARANTEE