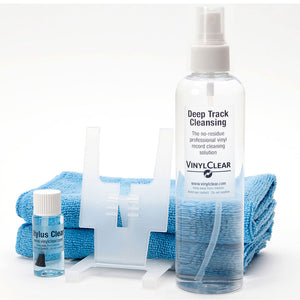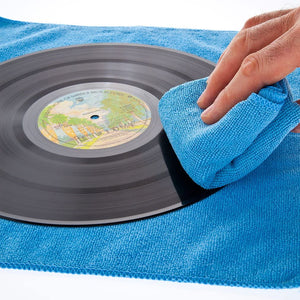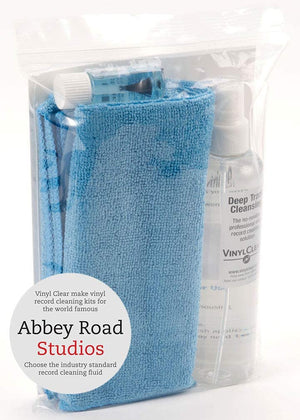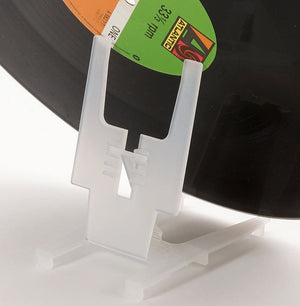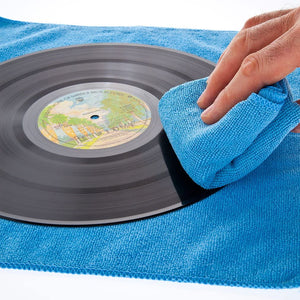 Professional LP Vinyl Record Solution - Antistatic Record Restoration & Cleaning Kit (250ml) with Stand, Full Sized Microcloths & Stylus Cleaner Fluid
A LARGE 250ml BOTTLE with Micro-Atomiser Spray. This Vinylclear Professional Vinyl Record Cleaning Fluid contains ultra pure ingredients proven to penetrate deep into the record groove and gently soften and remove contaminates, dust, dirt, grease deposits and dissolves fingerprints from your records. This large size 250ml bottle of vinyl record cleaning fluid will clean 350 LP's on both sides.
Two FULL-SIZED (400x400mm) super soft microfibre cleaning cloths, and a FOLD-AWAY 12" RECORD STAND. Will also work perfectly with a velvet antistatic record cleaning brush to keep your record groove clear and clean.
Plus - a 10ml BOTTLE OF STYLUS CLEAR. Needles often pick up dirt and dust which distorts their sound which is why we include a 10ml bottle of stylus cleaning fluid with its own stylus brush.
The vinyl record cleaning solution you can trust. Certified by their award-winning mastering engineers, Vinyl Clear make record cleaning kits for Abbey Road Studios, are ENDORSED BY THE DAILY MAIL, THE DAILY MIRROR, THE GUARDIAN AND THE TELEGRAPH, partnered by Lenco Turntables and sold on QVC. Buy with confidence, backed by our FULL 100% NO QUIBBLE MONEY BACK GUARANTEE